Do you love the outdoors? If you are in or heading to Oman you are in the perfect place! I'm going to cover some of the Sharqiya Region in Oman, specifically in and around Wadi Bani Khalid.
This is easily one of my top 10 places to explore in Oman! If you only have a few days and you want to see the real Oman and the beautiful outdoors, here is a 48 hour itinerary for you. 
Directions: Early morning leave Muscat and head East and South down the coastline on highway #17.  Enjoy some beautiful scenic and coastal views along the way! 
Day 1
1.  5:30 AM- depart Muscat- I know it's early, but it's worth it and you can nap later while in nature! 
2.  7:30 AM – Sur arrival- try to save stops for when you leave so you can hike while it's still cool in the morning
3.  8:15 AM- From Sur, head towards Al Kamil. Check out the local fish market if you can catch it in Al Kamil. Its small, but you can also see the old remnants of a fort nearby.
4.  8:45 AM- Old Castle Museum in Al Kamil (Al Kamil Wa Al Wafi) opens at 9:30- 5 PM, but Mr Khalfan saw us and asked if we wanted a tour. This spot is good for tourist to learn about history, and he has been collecting things since he was a teenager. It's a nice size castle with lots of cultural items. Cost: _____
5.  9:30 Am- Arrive at the Wadi Bani Khalid (non-tourist area- hiking in Wadi Hawir)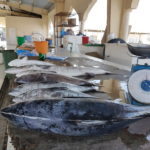 Maqal Village- (as the locals call it) There are some great hiking and wadis here! Bring waterproof gear and lots of water to hydrate. Along the way from the bottom of the mountain, you will have great photo ops driving up the mountain and next to the wadi and palm trees. Park at the end of the road and make your way to the back of the water building. Then go through the farm area and walk over the filaj system until you get to the boulder rocks in the large wadi. Climb down into the rocks and you will need to hike to your left for a little while until you see the large opening to your right in the wadi. This is the beginning of the water pools and harder hiking. It's about a 4-5 hour hike easily. Inside you will find waterfalls and great spots to cool off in. I took an easier hike and did about 3 hours of climbing over boulders and exploring around.
6. 1:00 PM – Return out of the wadi and I'm sure you are ready for some food! There is also a toilet area behind the water building and a few steps into the houses area. *ladies take your own tissues 😊 
7. 3:30 PM- find a camping spot! You can pretty much camp anywhere in Oman! 
TIPS: Camping- great spot in the touristy area of Wadi Bani Khalid. It's quiet and we only saw 1 cat and heard a few donkeys. Great sunset views, relax, have dinner and your other favorite nighttime activities.
Day 2
1. 6:00 AM breakfast, pack up and get in your last bit of sunrise photos
2. 7:30 AM hot springs area- more water! Easy hiking! Yes! The brown sign says "Mukal Cave and Water pools" turn here and go through the village. The roads are very narrow, for 1 vehicle. Park at the top of the area and you will see the wadi with large boulders and an old crumbling small building. You can walk down into the water pools from the steps and go right.
3. 9:00 AM Head to the "touristy" part of Wadi Bani Khalid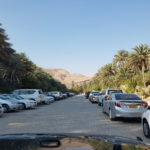 Here, you have a few options- stay and hike to the end and through the cave or continue with the rest of the itinerary below. If you do the full hike, it's about 3 hours or longer if you jump in the water to play. This is also a good picnic spot if you brought lunch. The hike is pretty easy, but not recommended if you cannot do heights, stairs, or uneven surfaces. Check out the lady hiking with her red purse! That's talent! 
Some other options in this area if you have more time: 
Al Kamil-  fuel up and stop for a local Karak tea (try  House of Tea)

Sur- lunch at Barbecue Tonight or another local spot

Ancient City of Qalhat- try your luck and see if its open, if not, you can walk up the hill to see it

Wadi Tiwi drive through and enjoy nature! You can go a nice distance inside in a saloon car (about a 2-3 hours here is good timing if your not trekking inside)

Wadi Shab- drive through or try a boat ride for a two rials to the other side and explore Wadi Shab? (if you skipped the cave in wadi Bani Khalid)
This is just a small snapshot of what you can see in Oman! There is so much beauty and nature here for outdoor lovers! Feel free to message me for more ideas or look on this website for more trip ideas in Oman! 
Gogo Everywhere!